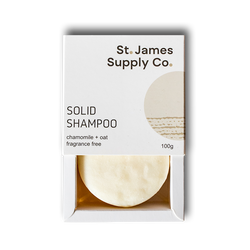 St James - Scent Free Chamomile and Oat Shampoo
Clove and Lemon Myrtle
Our shampoo bars are made using gentle detergent derived from coconut as their base. This means they are "soap-free" and have a much closer pH to human skin than other soap-based shampoo bars. This, along with soothing oat protein makes them excellent for people with sensitive skin and children. Carefully blended essential oils add a luxurious burst for your senses.
How long they should last:
The shampoo bars are 100g and last for a long time. Some estimate up to 50 washes or equivalent to 2-3 bottles of store-bought, but that will vary based on your usage.
Instructions for Use:
Lather bar in your hands or swipe across wet hair. Gently massage into scalp as with liquid shampoo. Rinse and repeat as necessary. Follow with conditioner bar.
Ingredients:
Sodium cocoyl isethionate (coconut), cocamidopropyl betaine (coconut), sodium cocoamphoacetate (coconut), sodium lauryl sulphoacetate (coconut), cocoa butter, behentremonium methosulfate (canola), sodium lactate (vegetable), avenin (oat protein), panthenol (vitamin B5), natural preservative (benzyl alcohol, salicylic acid, glycerin and sorbic acid), essential oils (frankincense, rose geranium, sweet orange), mica.