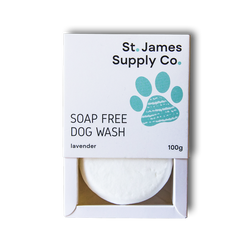 St. James - Soap Free Dog Wash
Our soap-free dog wash bar has a lower pH than soap which makes it a gentler cleaning option for your pet. Our dog wash bars are made using gentle detergent derived from coconut as their base. Lavender is one of the few essential oils which are safe for dogs, with antibacterial, anti-fungal and calming properties.
How long they should last:
The dog wash bars are 100g and last for a long time. Some estimate up to 50 washes but that will vary based on your usage.
Instructions for Use:
Wet your pet and swipe the bar across their fur. Gently massage in as with a liquid wash. Rinse and repeat as necessary.
Ingredients:
Sodium cocoyl isethionate (coconut), cocamidopropyl betaine (coconut), sodium cocoamphoacetate (coconut), sodium lauryl sulphoacetate (coconut), behentremonium methosulfate (canola), sodium lactate (vegetable), natural preservative (benzyl alcohol, salicylic acid, glycerin and sorbic acid), essential oils (lavender).

All our shampoos are soap free, biodegradable, vegan, no SLS, no sulphates, no silicones, no pthalates, no parabens.
Our cardboard packaging is sourced from suppliers with Forest Stewardship Council certification.