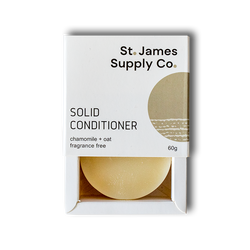 St. James - Scent Free Chamomile and Oat Conditioner
Scent Free Conditioner Bar with Oat and Chamomile Extract
Our conditioner bars are made with a range of naturally derived ingredients, shea butter and cocoa butter, and an olive-based ingredient (used in place of silicones) which is our shiny hair secret. Extra oat protein, panthenol B5, vitamin E and essential oils ensure a silky finish. You'll notice you have more healthy, shiny hair from the first wash.
How long they should last:
These 60g conditioner bars last for a long time (the conditioner bar in particular will last for months). Some estimate up to 50 washes or equivalent to 2-3 bottles of store-bought, but that will vary based on your usage.
Instructions for Use:
After shampooing, swipe conditioner bar across wet hair. Comb through and rinse. You don't need much- maybe 3 swipes for normal shoulder length hair.
Ingredients:
Behentremonium methosulfate (canola), jojoba oil, cocoa butter, glyceryl mono stearate (canola), shea butter, avenin (oat protein), panthenol (vitamin B5), hydrogenated olive oil, tocopherol (vitamin E), natural preservative (sorbitan caprylate, propanediol, benzoic acid), essential oils (frankincense, rose geranium, sweet orange), mica.
All our conditioners are soap free, biodegradable, vegan, no SLS, no sulphates, no silicones, no pthalates, no parabens.
Our cardboard packaging is sourced from suppliers with Forest Stewardship Council certification.